At the initiative of Ayb high school students, the 2022-23 academic year was announced as the Year of Artsakh. Many students participated in events and educational projects dedicated to Artsakh. One of the projects - The Week of Artsakh - was designed by 10th-grade student Erik Chagharyan. This project provided Ayb students with an opportunity to learn more about Artsakh, its history, and its culture. Special attention was given to its world-famous cuisine.
The Week started with a presentation on the history of Artsakh. The students were provided precise information about this ancient Armenian territory during the Community Hour.
The next day, the students gathered in the Hayastan hall to watch how the famous Zhingyalov Hats (flatbread stuffed with finely diced herbs) is prepared and then tasted it.
The third day features an interesting Artsakh-themed quest with the participation of two teams - the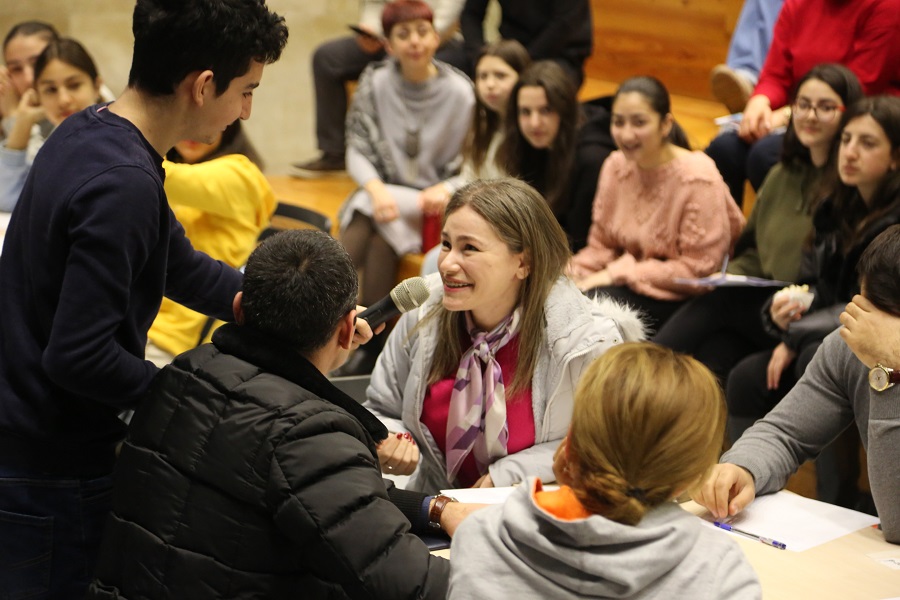 team of students and the team of teachers. The participants were asked a lot of questions about Artsakh. The quest ended in a draw because knowledge is always the winner.
On Thursday, an art corner opened in Building A where students and teachers could exchange ideas and demonstrate their talents by painting a picture dedicated to Artsakh. The bravest submitted their paintings to a competition, the results of which were summarized the next day in the Hayastan Hall. The Best Style nomination was won by 10th-grade student Aram Mkrtchyan who painted the Ghazanchetsots Cathedral. Another 10th-grade student, Tatev Grigoryan, won the Best Technical Execution and the Best Film nominations. Their classmate, Leon Khachatryan, was awarded for demonstrating the best photograph of the Artsakh Grandma Grandpa monument.
It's symbolic that the Week of Artsakh coincided with the celebration of the 31st anniversary of the Armenian Army formation. The participants honored the memory of the soldiers killed in the Artsakh wars.
The events were very productive and filled with new information that will always be remembered. The Week of Artsakh is over, but Artsakh is on our minds and in our hearts.
Mher Yengibaryan
Grade 10
Share