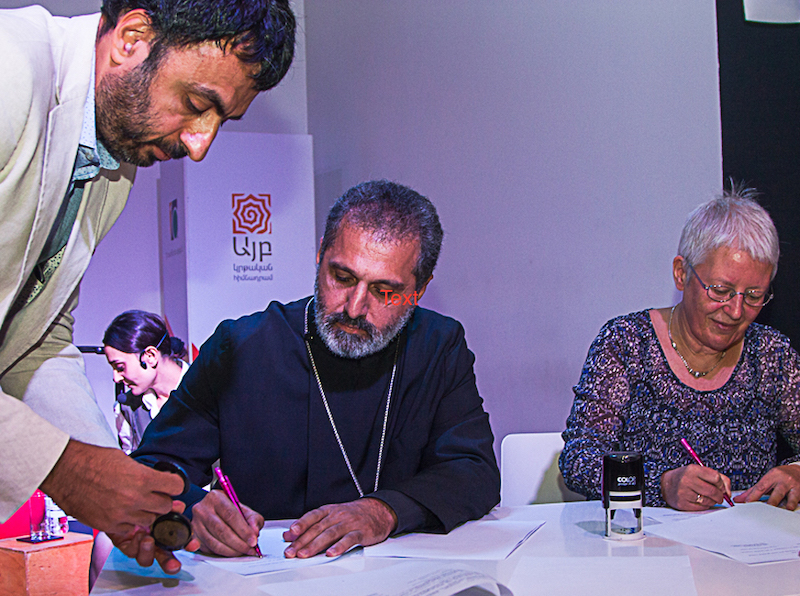 Ayb School and Goethe-Institut signed a memorandum of cooperation within the framework of "Schools: Partners for the Future" (PASCH) initiative. PASCH is a network, which spans over 1800 schools from around the world that place high value on German.
"Ayb School has simply impressed me. It's a school that shows me once again that Armenia has great hidden potential. The Embassy is overly happy for the cooperation between Goethe-Institut and Ayb School within the framework of PASCH initiative, aimed at reinforcement of German language. I am convinced that this joint project of strengthening German will yield positive results," said Ambassador of Germany to Armenia Bernhard Matthias Kiesler.
"Being selected as a partner school means we are an institution that provides deep and quality knowledge of German, while our students broaden opportunities to continue their studies in Federal Republic of Germany. Knowledge of German is something that students need to have today, as German-language education ensures high-quality professional capacity for the European economy, and professional capacity is a prerequisite for economic development," said Head of Ayb School Aram Pakhchanian.
"By selecting Ayb School and integrating it into the PASCH network we have enriched it with a top-notch school with methodological and pedagogical teaching concepts that serves as a lighthouse in Armenia," said Julia Kramer, expert in instruction, representative of Goethe Institute Georgia in Armenia.
Share