Seizing a good opportunity to exchange experience and establish new ties, Ayb School and Children of Armenia Fund (COAF) held a joint innovative educational event at COAF SMART Center in Lori province on May 9, 2019.
The program included scientific experiments in physics, chemistry and biology. In addition, culture was highlighted. The members of Ayb School's Art Studio club shared their experience in sketch-making, while the High School girl choir performed adapted works of Mashtots and Komitas, as well as the choral songs from Armen Tigranyan's Anush opera.
"Ayb School is implementing various projects that aim to create а cooperation platform with the provinces of Armenia and give students an opportunity to get familiarized with each other. We are thankful to COAF for sup
porting the Ayb School initiative and hosting us. It was a wonderful experience for acquiring new knowledge and skills from masterful teaching staff of the SMART Center," said Anna Akopian, Ayb School Head of Community.
The teachers and students of COAF SMART Center engaged Ayb students in their robotics, digital painting, fine arts, public speech and cinematographic art and theater classes. Besides, a Time for Tea event was held to grant the students a chance to discuss different questions in groups, suggest their solutions and exchange views.
"Through establishing deep and comprehensive cooperation with educational institutions, COAF is shaping a solid platform for information and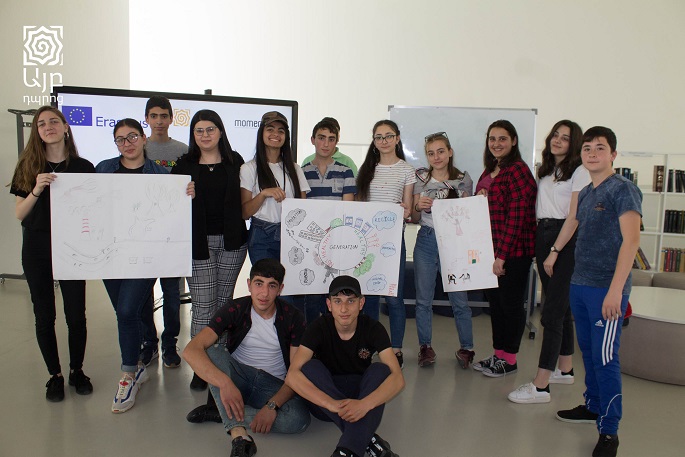 experience exchange. The most important for us is that the children from rural communities get the possibility to communicate with their peers. The project launched jointly with Ayb has already given a start to a number of innovative ideas and initiatives," COAF Director of Partnerships and Events Irina Igitkhanyan remarked.
To end the day, all participants gathered in the COAF SMART Center yard to dance national Armenian dances, thus strengthening the newly born cooperation.