Meetings between Ayb School alumni and students are an inseparable part of Ayb community life. Every year, such meetings provide students with an opportunity to receive advice on career options from those who have already gained relevant experience and overcame university admission difficulties. The gatherings also help strengthen and expand student-alumni ties.
The recent meeting consisted of two parts. To begin with, the alumni introduced themselves and talked about their career choices. The talk was followed by a tea party, during which the students asked their questions.
The alumni willingly shared their rich experience in choosing and mastering a career.
Some of them talked about future doctors' challenges: a long education period and the necessity to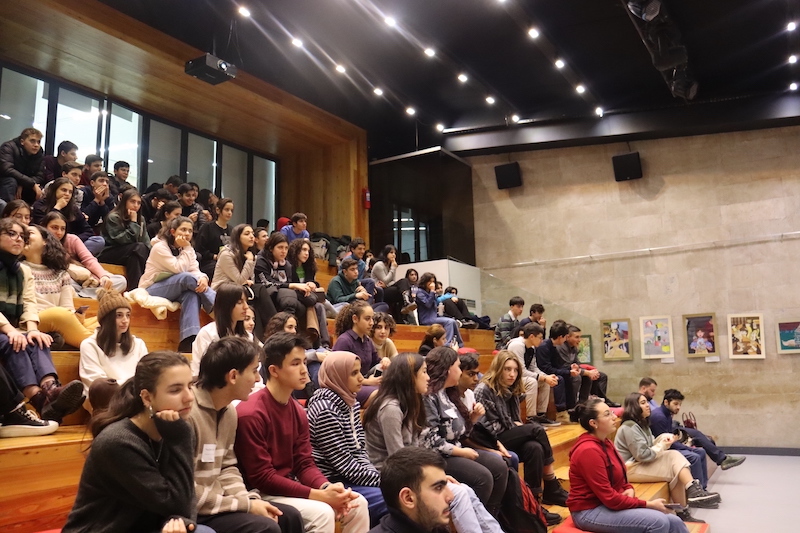 combine study and work. However, all agreed that the profession of a doctor will always be essential and irreplaceable for society.
Ayb alumni who currently study the law presented the benefits and perspectives of a law career, as well as problems that may arise during the learning process.
The alumna, who inspired students with success in the world of fashion, talked about her way toward the red carpet which required freedom from fear and stereotypes. Other alumni shared thoughts about scientific careers, introducing their challenges and advantages. Alumni, who took up a marketing career, presented the situation from the inside, revealing many details that remain unnoticed. The alumnus, who chose a filmmaking career, was also asked a lot of questions.
The alumni who currently study in the field of English Language and Communications remarked that although their faculty is rather underestimated, the learning process is actually interesting and full of art subjects.
The students received comprehensive information regarding the university admission procedures and the importance of self-education as a key to achieving success. It was an informative and useful meeting with more to follow.
Gyulnara Sargsyan
Grade 11
Share