A firework of professions at Ayb School: the annual 'Learning by Working' Internship Fair was held, bringing together the students, alumni, and Ayb hybrid education specialists. At the end of each academic year, the Ayb community holds this important event that provides the students and graduates with an opportunity to take training and then register and join numerous companies as interns.
Ayb School Executive Director delivered the opening speech that was followed by an online lecture from Ayb Educational Foundation Board of Trustees member and EPAM Business Development Director Artak Hovhannisyan who spoke about the careers of the future and explained what skills and knowledge will be required to become a demanded and competitive specialist.
Afterward, the companies participating in the event held a number of seminars.
· Citizen Congress – Practical marketing in Armenian realities'.
· Armenian Businessmen Association (Buissup) – opportunities for student startups in Armenia.
· Tutor Platform – Innovative technologies in instructional design
· Cafesjian Center for the Arts – The history and activity of the Center, with a focus on the organization and implementation of educational and social projects.
· HackTech LLC – The story of HackTeck creation, IT company activity, and presentation of some professions (product manager, project manager, UI/UX designer, software engineer, DevOps engineer, and others).
· Storaket Architectural Studio – Transformation.
· NAS RA Institute of Molecular Biology – Bioinformatics as modern medicine tool.
· Legal Lab LLC – What should a future lawyer know.
· Ameriabank - The story of success.
· GLink – Young Startuper: experience and advice on business launch.
· Luys Barry – Company activity.
· SNKH Architectural Studio – Company activity and successful projects.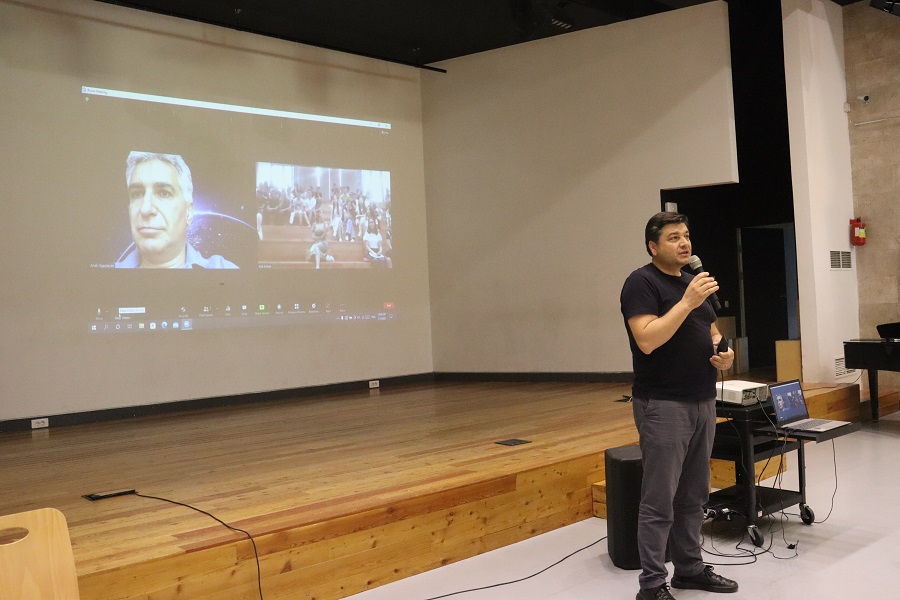 · Newmag – Book publishing: compact, competitive, and innovative.
· DigiLab – How to become an SMM specialist.
· Armenian-Russian University, Biomedicine and Pharmacy Institute – What our genes tell about us.
· gg – The secrets of team and brand building.
· reArmenia – How to establish productive cooperation.
· Fresco International Festival of Modern Art and Spiritual Films – About the fest.
· FAST– Why become a scientist.
· Transparency International Anti-Corruption Center - Young people for corruption-free Armenia.
· Seven Smarts – What is machine learning, how to become a machine learning engineer, interesting facts about machine learning.
Prior to the event, the students could choose the seminars they are interested in and register to participate. The seminars were scheduled for four different time periods, during which the guest company representatives spoke about the activities and skills that will help students in the future.
The fair that was held upon completion of the seminars brought together representatives of 35 companies, who presented their internship programs to the students, who got an opportunity to submit their bios and apply for internship.
The event helped Ayb School students learn more about the labor market in Armenia, choose a career and obtain relevant skills.
Share