The presentation of the Ayb School Film Factory club's Tracing Hidden Treasures project took place in the yard of St. Katoghike church on June 30.
A thematic exhibition ended with the screening of the three films shot by the students, who covered the urgent cultural issues to help attract public attention and find solutions to the persisting problems.
Let's know and pay due tribute the Armenian national art. Tracing Hidden Treasures project was meant to to build awareness about folklore and applies arts..
"This project gave the students a unique opportunity for to get familiarized with the pearls of Armenian culture, thus contributing to their development and awaking the wish to create their own gems. We are encouraged and admired by the results of the project-based learning and we do believe that it can become a reason to review t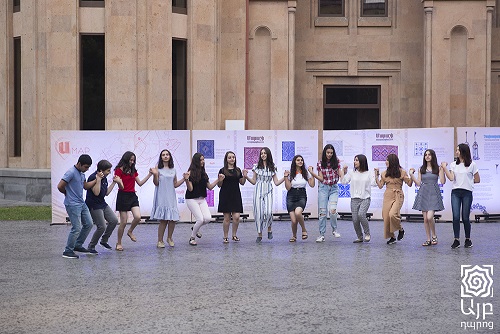 he whole structure of educational approaches. This is the way we go and we are proud to be able to link the future of the past," Ayb School principal Aram Pakhchanian said.
The Project-Based Learning (PBL) is an innovative educational model, which stems from "learning by doing" principle. This educational model enables students to set up teams and carry out large-scale and long-term projects to address actual community issues and challenges.