Every year, the school brings together all members of the Ayb community - staff, teachers, students, parents, who, after spending a whole day at school, leave with beautiful memories. Simultaneously with the sports games, a charity fair is held, the proceeds from which will be spent on the repair of lamps in the school gym this year.
Like it happens every year, the seventh Ayb Games kicked off with the solemn oath ceremony. The Ayb Choir performed a prayer followed by a solemn oath ceremony for the new members of Ayb community. They swore to remain true to the principles of the Ayb school and honorably observe the characteristics of the Ayb student. The ceremony gave the start to the Ayb Games.
This year, sports competitions were fluffed up with entertainment games. For the first time, the audience watched a humorous sumo fight which gifted participants joyful and unforgettable moments. Judging by the long queue of the zipline, we can surely say that kids loved it.
There was a hot struggle in competitive sports. The Ayb Games included the following sports: football, volleyball, table tennis,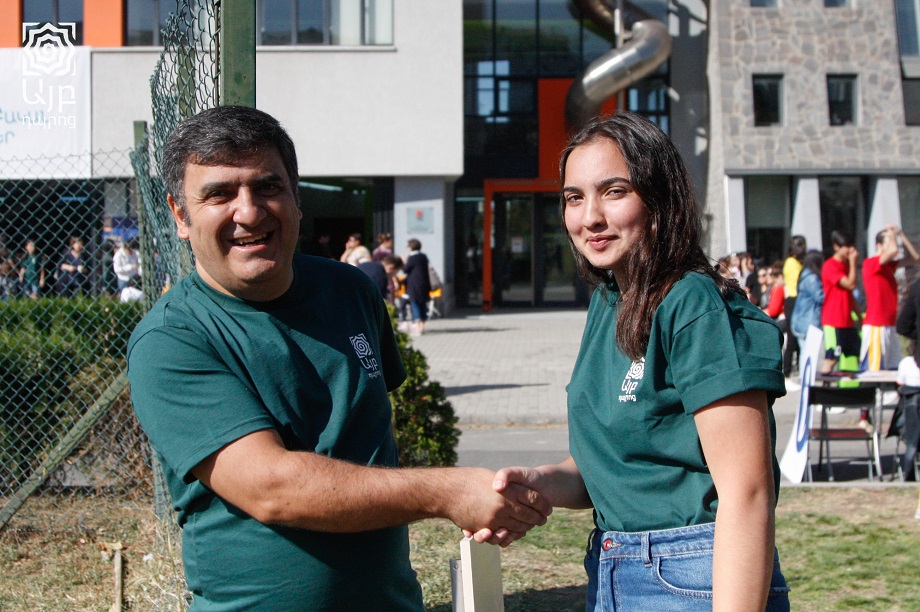 chess and basketball. The football tournament ended with the victory of the Green Team.
One of the players of the winning team David Javadyan shared his impressions. Participating in the football tournament, he became a three-time champion for the third year in a row: "When we won for the first time, we were very happy, yet it was an unusual feeling. The second year we played more motivated and the result was obvious. I set a goal to win the third year too and after seeing the composition of my team, I got more motivated and confident of victory. Besides the team members, we were encouraged by the audience, who conveyed us even more strength."
Besides sports tournaments, the list of games included one more competition - brain ring. The smartest participants faced each other in the "brain contest".
The sports tournaments were followed by the long-awaited and the most favorite moment -Armenian dances and Harissa treat. Ayb School's Aybar dance group performed beautiful Armenian ethnographic dances. Then the holy father blessed Harissa and the feast began. At the end, the audience caught a round dance, thereby proclaiming the end of the Ayb Games.
The Ayb Games are a celebration for all members of the Ayb community. The day to get together in the school and enjoy each other's presence becomes unforgettable for all of us. We are now looking forward to the next Ayb Games.
Zhanna Hayrapetyan
12th grade