Theologist, scientist, Ayb School co-founder, Ayb School Advisory Board member, FAST Foundation co-founder, Father Mesrop Aramian has recently visited Ayb School for a talk with the students. He focused on Ayb background, philosophy, principles, faith and science, and the Artsakh wars.
Below you will find the main messages delivered by Fr. Aramian.
Araratian Baccalaureate: in line with international standards
The Araratian Baccalaureate is one of the main achievements of Ayb School and Armenia's entire educational system. We succeeded in creating a curriculum equivalent to the educational programs of schools that meet the highest international standards. It's noteworthy that during our first visit to University of Cambridge, Mr David Bridges (https://www.educ.cam.ac.uk/people/staff/bridges/) asked why we want to create the Araratian Baccalaureate from scratch instead of adopting a ready-to-use educational program. I replied that in the 5th century AD, our Catholicos, King and Educator agreed to avoid copying the others' creations and invent our own, thus laying the foundation for our self-determination and continuation as a nation.
How Ayb eight principles originated
Back in ancient Egypt, people were characterized by their values and accomplishments. Schoolteachers taught certain subjects but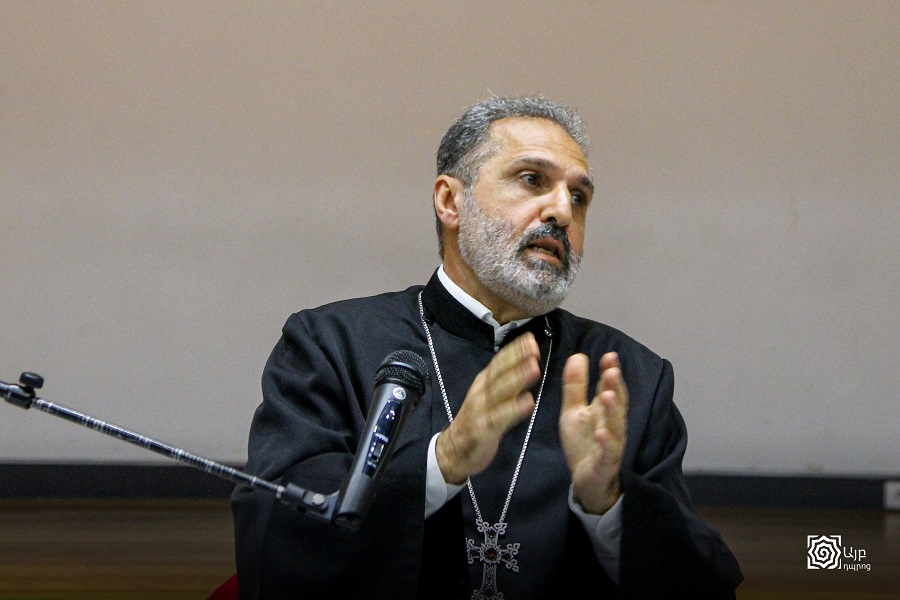 their ultimate goal was not to ensure the subject knowledge but to shape personalities, who will become worthy carriers of this knowledge. In the modern world, it's easy to lose personal values and merits, however, as Jesus Christ said, "What will you gain you own the whole world but destroy yourself?"
Since the moment Ayb School was established, our supreme goal was to bring up decent individuals. We based on four cardinal Platonic virtues: wisdom, courage, moderation and justice. Wisdom is the ability to think and act using knowledge, experience, understanding, common sense and insight. For us, it turned into "knowledgeable and creative." A brave person takes the risk to achieve a result. For the Ayb student, courage was described as "initiative-taking and balanced." Moderation is the process of eliminating or lessening extremes. Ayb student is vigilant but at the same time open for family and friends." If we are unable to control our feelings and desires, they will overwhelm our minds and make us slaves. On top of all this, every person is a part of the society, where justice is the supreme value, one of the most important moral and political concepts. A just person is prudent and caring.
How I left physics for theology
When I was a university student, I had to choose between church and science. The transition from physics to metaphysics was smooth, although I was fond of this discipline. Then I discovered the spiritual and understood that I spent sleepless nights not to solve physical tasks but to read ecclesiastical literature. However, if you pursue science you must devote yourself utterly to it. It was the time when a friend of mine, Father Pargev, who had been just appointed the head of Artsakh Diocese of the Armenian Apostolic Church, offered me to go for priesthood. I said I must graduate from the university first but then understood that I was not honest with myself and chose the church. Thanks God, I stepped on the right path. Everything is based on faith and I simply couldn't live without faith.
About Artsakh wars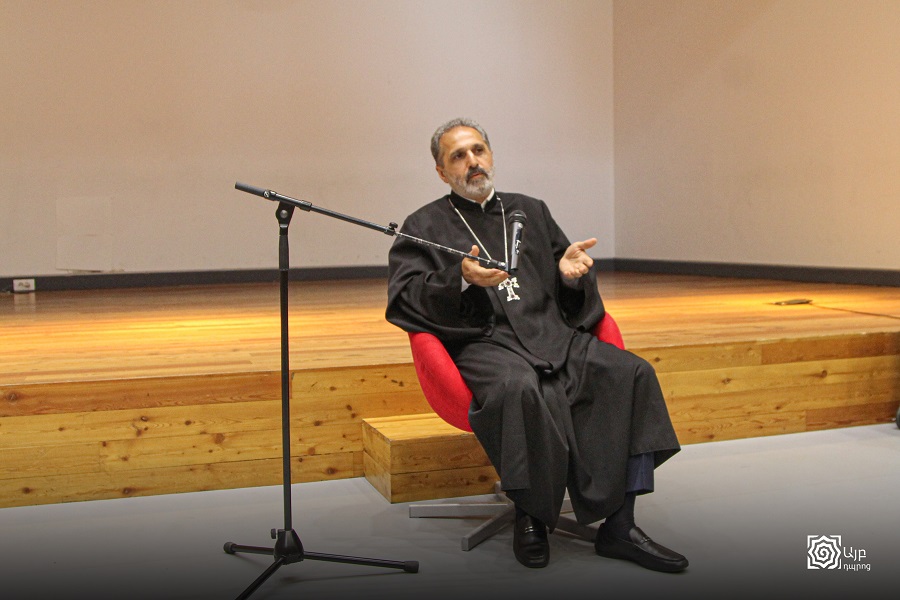 It was the time when the Artsakh movement was gaining force and we realized that we were granted the opportunity to bring back what we had lost before. After graduating from the Moscow Institute of Physics and Technology, I returned to Armenia, took a snap theology course at Holy Etchmiadzin and joined the Artsakh Diocese. Father Pargev and I went through the horrors of the war and witnessed the triumphant victories of our military men.
The Artsakh movement brought me back to Armenia. If it weren't for it, I would probably stay in Russia. However, it was enough to visit Gandzasar to feel the tight bond with our sacred places and realize how hard it will be to live without them. We lost most of our friends during the first Artsakh liberation war. We all survived hard times and I got emotionally attached to this land. The 2020 Artsakh war was an unspeakable tragedy for me.
During the first Artsakh war we managed to return what we had lost, but failed to preserve our achievements. We will feel this pain as long as we don't know the reasons for the defeat. To stay alive, we must know why we were defeated.
Anahit Abgaryan, 10th grade
Share